Last weekend me and Lucy the wagon and two friends Stephanie and Edgar all went down to Van Nuys, CA for the annual Mopar Show and Swap,
Spring Fling 2010
at Woodley Park. It is touted as the biggest Mopar show & swap this side of the Mississippi. It is a two day event and really is something else! Ever since I got my first Dart, 'Ol Blue I have been going to get stuff for the cars and also to see my buddy and Mopar Genius, Jeff Chong. He has helped me outta more mechanical mishaps than anyone :-)
It was a great day, not too hot and fulla people and cars. Jeff was there as was his pal Richard. Both he and Richard brought their Dodge Ultra Vans. I parked my wagon in the show area and then Edgar & Stephanie & I walked all our stuff over to the swap area to hang out and sell some stuff!
Left to right, Jeff with his Ultra Van V8 , Me and Lucy the Dart Wagon and Richard & his Slant 6 Ultra Van. Not pictured Edgar and his 61 Valiant or Stephanie and her 65 Ford Falcon named Shirley
I had a few parts to sell but mostly I wanted to try my hand at custom Mopar stickers & signs. I used the scrap material that piles up at work to create some best sellers!
The "Al Bundy Drove a Dodge" sticker was by far the favorite and sold out immediately!
All in all I made over a $100 which was quickly spent at the show!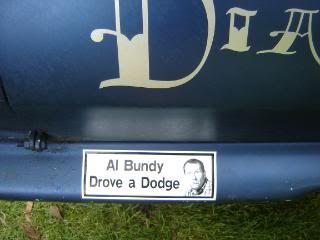 The Crowd Favorite
We all had a blast walking around and talking to other enthusiasts and just hanging out in general. After the shopping crowd had died down and we all had a chance to check out the amazing cars people had brought to show, we all regrouped on the swap side of the show. Once we were all regrouped we just chilled for a while, well all of us except Jeff! Jeff being as awesome as he is, offered to tune Lucy right there and then.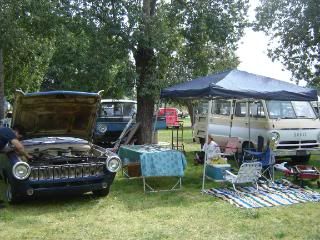 Jeff busted out the tools as Edgar, Stephanie and I watched. He discovered some fundamental stuff wrong with the ol' girl. Firstly, the PCV valve and the oil cap were swapped, he fixed that and put on a new PCV valve. Then he set off to do the timimg and knew right away that it was way off. He fixed that and my points too. Then when the car still sounded funny, he did a valve timing! After that there was still some exhaust blow back and he deftly discovered what the cause of that was. The gasket under the carb was in the wrong position, blocking a small hole that helps the exhaust flow. He corrected that, fine tuned her and she was purring like a kitten!
Jeff in his natural habitat, under the hood of a Dodge
This discovery and repair may mean that the goo/snot that was oozing out of the oil cap may stop entirely!
That
ladies and gentleman, would suggest that perhaps I don't have a cracked block after all! WOW! That is why Jeff is THE MAN! I paid him a lil' bit of cash from my sticker sales for his time & effort. As usual, a million thanks man!
I have some homework to do on the car like replace the gaskets on the flange, valve cover and exhaust and replace the plugs and the plug wires. After that is done I will monitor the engine and cross my fingers that no more snot shows up. I sure hope it works!
Here are some pics from the day. Enjoy and stay tuned!